Borgholm Castle
Adresse: Sollidenvägen 5, 387 94 BORGHOLM
Karte anzeigen
Adresse: Sollidenvägen 5, 387 94 BORGHOLM

An unforgettable visit at Borgholms Castle. Wander around the various castle chambers and feel the presence of history! Enjoy the fantastic views over the surrounding alvar and the Kalmar Strait.
Borgholm Castle – 900 years of Swedish history.
Borgholm Castle, "the most beautiful castle ruins of Scandinavia", ranks among those buildings that leave no visitor untouched. The size of the castle is overwhelming and its geographical setting fascinating. Rarely do nature and architecture form such a unity as here. This unique setting was further accentuated in 1806 when the castle was destroyed by a fire, and the bare limestone walls were all that was left of its former glory.

Borgholm Castle today is the ruins of the fabulous baroque palace that King Karl X Gustav built here in the mid 17th century. He is the only Swedish king who lived at the castle for a longer period of time.

At Borgholm Castle, many people have come and gone through the centuries: kings and their families, architects, bailiffs and watchmen, prisoners and guards, handicraft people and crofters. Then there were those involved in the building process: masons, lime burners and mortar makers, carpenters, smiths, stone masons och stone layers, scaffolders, glaziers och painters, but also summoned farmers, prisoners and soldiers. Many of these were non-Swedes, and during some periods more Danish and German than Swedish was spoken in the castle.

Today, Borgholm Castle is one of the region's greatest tourist attractions providing visitors a unique insight in Swedish, Scandinavian and European history stretching back 900 years! Borgholm Castle is part of our common cultural heritage and is maintained by the National Property Board of Sweden. Borgholm municipality is responsible for the activities that take place at the castle.

CHILDREN'S CASTLE
Borgholm Castle offers many activities for children.

Guided tours for children and families!

Castle workshop
In the castle workshop you can paint your own shield, shoot bow and arrows or ride the mechanical castle horse Rulle. There is also an obstacle course you can try! Please note: Only cash payments are accepted at the castle workshop.

Knight school for children
Duchess Ingeborg invites all children (4-12 years) to join Borgholm Castle's knight school. What is a knight? How do you recognise one? What did knights actually do? How can you become a knight? You will find the answers to these questions when you join the knight school at Borgholm Castle this summer. A knight school session is about 45-60 minutes, depending on how many children are to be knighted.

Welcome to Borgholm Castle!
Mehr anzeigen
Über diese Aktivität
Telefonnummer

Telefonnummer Reservierung

Adresse

City (address)

Email

Startseite

Stunden

Borgholm Castle is open from April to September 2017 // April & 1-24 September: 10.00 – 16.00 // June, July & August: 10.00 – 18.00 // Last entry is one hour before closing time.

Preis

Prices 2017 // Adults: SEK 95. // Children, 12-17 years: SEK 60. // Children under 12 years accompanied by an adult have free admission.
Hotell
Entfernung: 900 Meter
Das Strand Hotel liegt zentral in Borgholm am Segelboothafen. Das Schloss Solliden, die Sommerresidenz der königlichen Familie, das Schloss Borgholm sowie Borgholms Zentrum sind bequem per Fuss zu erreichen.
Herberge / Zimmer
Entfernung: 819 Meter
Welcome to Rosenfors Herrgård hostel (vandrarhem) in Borgholm. Come here to relax in our wonderful garden or have a walk on Alvaret to Borgholm castle and Solliden Residence. The children can play in our big garden. Hostel in a country estate environment. Perfect accomodation for the ones who like to make day trips on the whole island and still be near the city of Borgholm with its restaurants and shops during night time. Walking distance to the centre of Borgholm.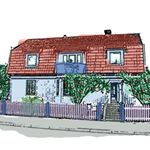 Herberge / Zimmer
Entfernung: 928 Meter
Wilkommen zu Villa Lavendel! Eine schöne Café und Unterkünfte mit Seeaussicht an Borgholms Hafen. Im der Cafe wird es Gehakke und Essen serviert. Sie können gern in unsere wunderschöne Apfelgarten ausspanen. Gangabstand zum Bad, Geschäfte und der Schlossruine. Brauchen Sie hilfe ein Party oder Catring zu arrangieren, dann helfen wir gerne ihnen.