Svalgården
Address

: Kvinnsgröta 214, 386 64 DEGERHAMN
show map
Location: Southern Öland
Hostel / Rooms | Welcome to a typical row-village in the middle of the world heritage, close to wellknown sights as Ottenby Bird Observatory with the lighthouse Långe Jan and the Eketorp Fortress.
Inside the recently restored old granary, You find two separate apartments (the Western and the Eastern) with two doublerooms in each.The bedrooms and WC/Shower-room are situated at the ground floor. At the first floor You find the big livingrooms and the kitchens (with washing-up-machine, stove, micro-wave oven, refrigerator, freezer and, of course a coffee-machine. The livingrooms offer You a view over the Alvar (the steppe) (Western) or the agricultural landscape of Öland (Eastern). WIFI.
Cleaning may be ordered as an optional extra. Please call the accommodation.

When it is too dark to enjoy the natural views, You can follow the world happenings via TV.
If you wish to make a reservation during low season for children under the age of 6, please contact the reservation unit.
Facilities and services
Shower

Shower shared

Coffee/Tea maker

Special requirements
Compare "Svalgården" with similar alternatives
Easier accommodation in a hostel standard in Eketorp, on southeast Öland. This charming accommodation is a stone's throw from Eketorp castle, in the middle of Öland's World Heritage Site.
The house of the lighthousekeeper in Segerstad is divided into two comfortable flats of about 100 sqm each with all commodities. Both sides where occupied from 1883 to 1967 by the families of respectively the lighthouse master and the lighthousekeeper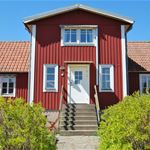 In Hulterstad's linear village, south-east Öland, approx 30 kilometres from the southern tip.