Villa Sol & Villa Ekebo SVIF Hostel Borgholm, Öland
Address

: Slottsgatan 30, 38732 BORGHOLM
show map
Location: Borgholm
Hostel / Rooms | The small, romantic, cozy accommodation in Borgholm. Villa Sol & Villa Ekebo, the hostels in the middle of Öland!"Best choice in town" according to "Rough Guide to Sweden".
Also in "Lonely Planet" and "Le petit futé".
250 m from the city center and harbor, The accommodations are located opposite each other in the corner of Slottsgatan and Kungsgatan. You bring your own sheets and towels and do the cleaning by departure. Pets allowed. Free WiFi.
All year round open!
Stay in cozy rooms with private shower / WC, TV, refrigerator and microwave oven. Or a bit cheaper rooms with shared bathrooms which are newly renovated. Please contact the reservation unit if you wish to book more extra beds. Access to fully equipped guest kitchen with fridge/freezer, stove, fan, porcelaine, pots & pans, microwave oven and dishwasher. Common TV room. Free Wifi. Large balcony. Lush garden and barbecue. Pets allowed in all rooms. Smoking is not allowed. Villa Ekebo has a sauna. We practice sorting of waste and hope you will cooperate and put the right stuff in the right container! :-) Breakfast is served at several restaurants nearby. Villa Sol & Villa Ekebo is open all year round!
Bedlinen/towels and departure cleaning you do and bring by yourself.
Facilities and services
Balcony or terrace

Shower

Freezer

Shower shared

Communal cooking area

Jacuzzi

Coffee/Tea maker

Tv in lounge

Bicycle rental

Golf

Gym

Indoor pool

Swimming area

Outdoor pool

Special requirements
Contact information
Phone number

Phone number (booking)

Contact person email
Compare "Villa Sol & Villa Ekebo SVIF Hostel Borgholm, Öland" with similar alternatives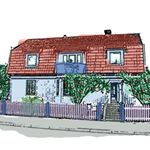 Welcome too Villa Lavendel! Charming Café & Accomodation with seaview in Borgholms harbor. Food, drink an dessert is served in the café. Sit and relax in our wonderful apple tree garden. Walking distance too beach, shops and Borgholms ruined castle.
Gamla Televerket is located at Borgholm's central square Fresh rooms centrally situated in Borgholm. Open all year round. Breakfast and bedding are included in the price. Double rooms with a personal touch and access to a shared kitchen, showers and toilets in the corridor.