Runsten Säng & Frukost
Address

: Runsten 31, 386 94 FÄRJESTADEN
show map
Location: Central Öland
Bed & Breakfast | Runsten Säng & Frukost is a nice summe café and bed & breakfast situated in a calm and rural environment in Runsten on Öland. The house, with its wonderful garden is built in the beginning of the 1900 and was a warehouse up until 1983, when it was rebuilt too a hotel.
Welcome to Runsten Säng & Frukost on Öland.

Runsten Säng & Frukost has eight comfortable doublerooms , of wich three is with own WC and shower. Breakfast is included in the price and is served in the form of a great buffet, that is served between 8 and 10 o´clock in the morning. No pets are allowed!
Contact information
Phone number

Phone number (booking)
Compare "Runsten Säng & Frukost" with similar alternatives
Welcome to our close to nature living at Rosenborg Friluftspensionat only 11 km or 12 minutes in car from the Öland-bridge. The farm dating back to 1758 has since 2007 been operated as a restaurant and B & B with beds for 38 guests. Restaurant and café serving both inside and out in our spacious garden.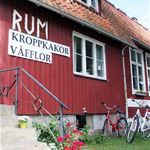 Edith & Julia Bed and Breakfast is centrally located in the middle of Oland, 12 km south of Borgholm, in the village Rälla. Edith & Julia is the ideal base for your holiday when it is close to most things. Here are two housing options. You can choose doubleroom with TV inside the main building or 4-bed rooms in an annex the garden. . Breakfast is served in our cozy cafe, and can be enjoyed outside in the garden. Pets are allowed in 7 of the rooms 2 rooms are not allowed for pets.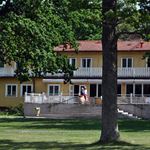 Mormors Pensionat Strandhagen, located in Stora Rör on central Öland, opened its doors on 20 July 2014. We offer cosy accommodation with views over the Kalmar Strait. Come and enjoy a peaceful, warm and spiritual environment which will make you feel nostalgic. We have one room where pets are allowed.