Vida Café & Bistro
Address: Halltorp, 387 21 Borgholm
Show map
Address: Halltorp, 387 21 Borgholm

Welcome to our spacious café, located between the museum's Norra Hallen and Trotzighallen. There is also a roof terrace with views over the Kalmar Strait.
Enjoy a cup of coffee with a delicious sandwich, a piece of rose-petal chocolate cake, some sponge-cake, or something from our selection of confectionary made with quality chocolate.
Show more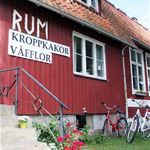 Bed & Breakfast
Distance: 3.3 km
Edith & Julia Bed and Breakfast is centrally located in the middle of Oland, 12 km south of Borgholm, in the village Rälla. Edith & Julia is the ideal base for your holiday when it is close to most things. Here are two housing options. You can choose doubleroom with TV inside the main building or 4-bed rooms in an annex the garden. . Breakfast is served in our cozy cafe, and can be enjoyed outside in the garden. Pets are allowed in 7 of the rooms 2 rooms are not allowed for pets.
Bed & Breakfast
Distance: 6.1 km
You will arrive to made-up beds and in the morning we serve a proper "farmer's breakfast"! The breakfast buffet, bedding and towels are included. We have 4 rooms, each with 2-5 beds, and access to a fully-equipped kitchen, a reading area with Öland literature, a TV room and 3 bathrooms with shower/toilet. Pets are not allowed in the house. Open all year round!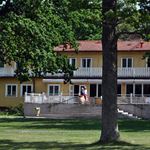 Bed & Breakfast
Distance: 6.8 km
Mormors Pensionat Strandhagen, located in Stora Rör on central Öland, opened its doors on 20 July 2014. We offer cosy accommodation with views over the Kalmar Strait. Come and enjoy a peaceful, warm and spiritual environment which will make you feel nostalgic. We have one room where pets are allowed.