Kaffestugan at Ismanstorps Borg
Address: Mitt i Mittlandsskogen
Show map
Address: Mitt i Mittlandsskogen

Just east of the old fort, among hazels, junipers and oaks, there is a tiny cottage...
Kaffestugan serves coffee and tea, soft drinks and buns, sticky chocolate cake with hazelnuts, and sandwiches made from woodstove-baked barley bread. Kaffestugan at Ismanstorps Borg lies in the middle of Mittlandsskogen (the midland forest) between the villages of Långlöt and Högsrum.
Show more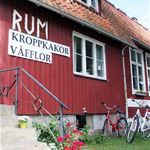 Bed & Breakfast
Distance: 5.4 km
Edith & Julia Bed and Breakfast is centrally located in the middle of Oland, 12 km south of Borgholm, in the village Rälla. Edith & Julia is the ideal base for your holiday when it is close to most things. Here are two housing options. You can choose doubleroom with TV inside the main building or 4-bed rooms in an annex the garden. . Breakfast is served in our cozy cafe, and can be enjoyed outside in the garden. Pets are allowed in 7 of the rooms 2 rooms are not allowed for pets.
Bed & Breakfast
Distance: 5.7 km
Runsten Säng & Frukost is a nice summe café and bed & breakfast situated in a calm and rural environment in Runsten on Öland. The house, with its wonderful garden is built in the beginning of the 1900 and was a warehouse up until 1983, when it was rebuilt too a hotel.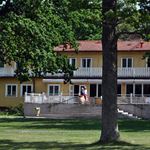 Bed & Breakfast
Distance: 7 km
Mormors Pensionat Strandhagen, located in Stora Rör on central Öland, opened its doors on 20 July 2014. We offer cosy accommodation with views over the Kalmar Strait. Come and enjoy a peaceful, warm and spiritual environment which will make you feel nostalgic. We have one room where pets are allowed.