Brukshotellet Degerhamn
Address: Degerhamnsvägen 23 , 380 65 Degerhamn
Show map
Address: Degerhamnsvägen 23 , 380 65 Degerhamn

Apart from lunch, we also offer food for weddings, birthdays, farewell parties or other special celebrations.
We cater for dinner groups of at least 10 persons – book at least one week in advance.
Catering. We deliver food to your party – Please call us to order!
Please send us a request and we will make you an offer!
Show more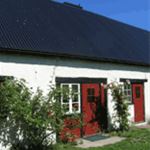 Hostel / Rooms
Distance: 6.7 km
Welcome to a typical row-village in the middle of the world heritage, close to wellknown sights as Ottenby Bird Observatory with the lighthouse Långe Jan and the Eketorp Fortress.
Hostel / Rooms
Distance: 9.7 km
The house of the lighthousekeeper in Segerstad is divided into two comfortable flats of about 100 sqm each with all commodities. Both sides where occupied from 1883 to 1967 by the families of respectively the lighthouse master and the lighthousekeeper
Bed & Breakfast
Distance: 11.3 km
Alvargården Film & Kulturcenter is located in the village of Kastlösa by the Stora Alvaret on southern Öland, in the middle of the world heritage.