Järnåldersleden (Iron Age trail) - hike trail
Show map
In the very south, close to Ottenby, there is an easy trail with beautiful views and an exciting history.
www.cyklapaoland.nu
Show more
Hostel / Rooms
Distance: 9.5 km
Easier accommodation in a hostel standard in Eketorp, on southeast Öland. This charming accommodation is a stone's throw from Eketorp castle, in the middle of Öland's World Heritage Site.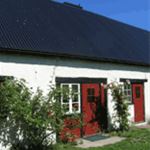 Hostel / Rooms
Distance: 12 km
Welcome to a typical row-village in the middle of the world heritage, close to wellknown sights as Ottenby Bird Observatory with the lighthouse Långe Jan and the Eketorp Fortress.
Hostel / Rooms
Distance: 19.2 km
The house of the lighthousekeeper in Segerstad is divided into two comfortable flats of about 100 sqm each with all commodities. Both sides where occupied from 1883 to 1967 by the families of respectively the lighthouse master and the lighthousekeeper