Skulpturleden (Sculpture trail)
Show map
Skulpturleden (Sculpture trail) is a nature experience as well as an art experience. I
It is a 4 km long stretch of Mörbylångaleden that leads you along three sculptures made by artists from Öland and Småland. Skulpturleden starts at Skärlöv old station house and follows the railway embankment along the edge of the alvar, to Mellby. It is about an hour´s slow walk to the end and back.
Show more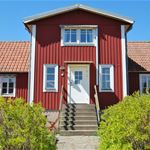 Bed & Breakfast
Distance: 3.2 km
In Hulterstad's linear village, south-east Öland, approx 30 kilometres from the southern tip.
Bed & Breakfast
Distance: 8.7 km
Alvargården, how nice sounds the name? Perhaps just as great as the landscape's breath, a little bit beyond the sea. Pets are not allowed.
Hostel / Rooms
Distance: 5.2 km
The house of the lighthousekeeper in Segerstad is divided into two comfortable flats of about 100 sqm each with all commodities. Both sides where occupied from 1883 to 1967 by the families of respectively the lighthouse master and the lighthousekeeper