Örnkullen is a 5.5-km route which connects the "Stora alvarleden" with the "Gösslundaleden".
Just south of the parking area, at Resmo-Brunnebyvägen, lies Kritmossen. Here are traces of human settlement in the form of a 115-metre long embankment, which served to dam up water from the bog upstream. Reportedly, a small water-mill was once located here, but no traces of this remain. The large stone foundations are believed to be left-over industrial stocks of limestone slabs. Örnkullen is a small ridge with an extensive view over the flat landscape, an ideal place for a short break. Along the trail you will see a number of ruins of small stone houses which were used as shepherd's cabins. Here are also some smaller bedrock areas and two rather overgrown barrows.

For map, follow "links" below.
Show more
Camping
Distance: 5 km
Stenåsa Stugor & Camping is a beautiful family campsite in natural surounding on south east Öland.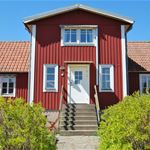 Bed & Breakfast
Distance: 8.3 km
In Hulterstad's linear village, south-east Öland, approx 30 kilometres from the southern tip.
Bed & Breakfast
Distance: 9.8 km
Alvargården Film & Kulturcenter is located in the village of Kastlösa by the Stora Alvaret on southern Öland, in the middle of the world heritage.