Gösslundaleden is a marked hiking trail of approximately 7 km, which starts and ends at the parking area across the road that leads into Gösslunda village.
The track goes across the extensive Great Alvar and takes you along a great natural diversity in the form of dry and wet meadows, gravel alvar and a large bedrock area with karst formations (cracks of varying sizes in the limestone bedrock). The trail follows a 900-metre long bedrock ridge which was created in a geological process. You will pass two large barrow graves. Near a well, there is a stone table with boulders to sit on – a wonderful place for a short break. Part of this trail follows an ancient route that once connected Resmo and Triberga. The hiking trail is linked with other trails both in the north and in the south. There are information displays, toilets and seating facilities at the parking area.

For map, follow "links" below.
Show more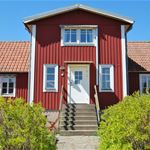 Bed & Breakfast
Distance: 5.3 km
In Hulterstad's linear village, south-east Öland, approx 30 kilometres from the southern tip.
Camping
Distance: 5.6 km
Stenåsa Stugor & Camping is a beautiful family campsite in natural surounding on south east Öland.
Bed & Breakfast
Distance: 7.3 km
Alvargården Film & Kulturcenter is located in the village of Kastlösa by the Stora Alvaret on southern Öland, in the middle of the world heritage.